Sacony Creek Background
The Sacony Creek is rich in history as well as in natural beauty. The 17 mile creek flows through Kutztown and is a tributary of the Maiden Creek, which ultimately flows into Lake Ontelaunee and the Schuylkill River. Native Americans and pioneers used these waterways for transporting goods, fishing, and as a source of water. The name Sacony is derived from "Sakunk" meaning"place of outlet." The popular Saucony shoe company was founded in 1898 along the banks of the creek it was named after. The shoe's logo represents the flow of water across the rocks in the creek bed. Today, the Sacony Creek remains a stream with good water quality despite environmental stress of farming and industrial activities along its banks. Parts of the creek have been classified as an exceptional value stream in terms of water quality by the Pennsylvania Department of Environmental Protection. This is a designation for pristine waters of the highest quality in the state. The Nature Conservancy also has ranked the Sacony Marsh and the Sacony Creek as natural areas of statewide significance and as two of the top natural areas in need of protection in Berks County.
What organisms to look for in the Sacony Creek
The high quality of water in the Sacony Creek is reflected in the diversity and abundance of aquatic organisms, such as invertebrates and fish that thrive here. By turning over a few rocks in the creek or casting a fishing line, you will readily discover many different types of animals living in the creek. Here are a few examples of organisms easily found in the creek.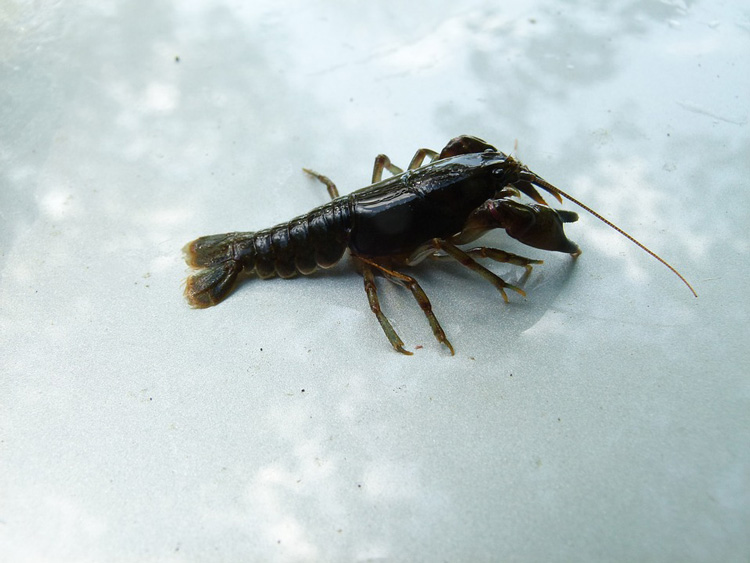 Crayfish, Cambarus sp., are freshwater crustaceans that are commonly found in the Sacony Creek. They are easily recognized by the large claws on their first pair of legs. Different species of crayfish live throughout the United States and are found underneath rocks and logs or in burrows. Larger crayfish tend to live in the deeper areas of their habitat while smaller crayfish live in shallower areas to avoid predators. Crayfish are essential to a freshwater aquatic ecosystem because as decomposers their feeding activities break down dead plant and animal material to help reduce sediment and improve water quality. They are also part of multiple food webs for both aquatic and terrestrial organisms. Crayfish break down dead material into fine particles that provides a food source to smaller aquatic invertebrates. Many vertebrate animals, such as fish and mammals, rely on crayfish as a food source.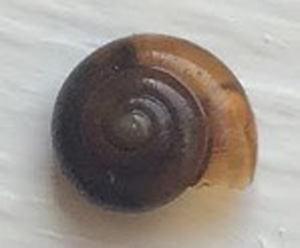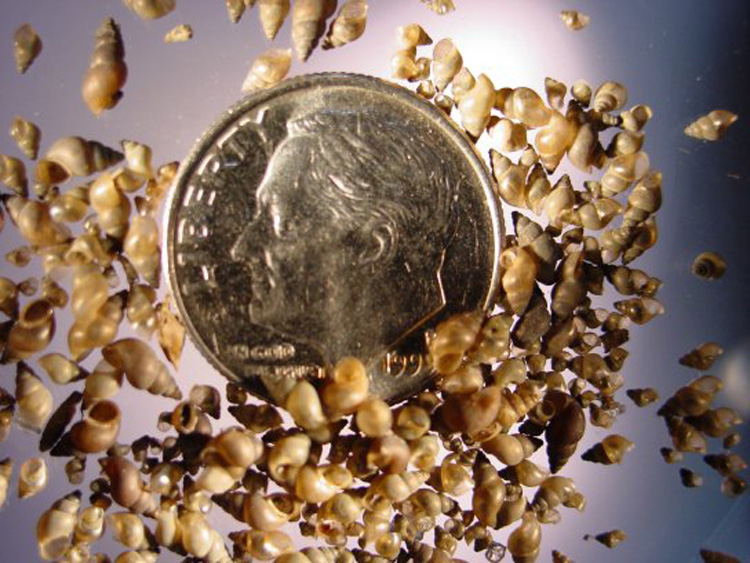 Freshwater aquatic snails are abundant organisms found in streams and rivers that are easily recognized by their calcium-based shell. Some aquatic snails, called operculates, have a lid-like structure or operculum, which can cover the opening of their shell to protect them from predators. Snails without an operculum are known as pulmonates. Pulmonate snails, named for their lung-like structure for respiration, are more common than operculate snails in Pennsylvania. Snails have a rasp-like structure or radula that is used for feeding. Most snails feed on algae or small bits of dead organic matter that they use their radula to scrape from rocks, logs, and other submerged surfaces. Snails are important because of the ecological services they provide and as important components of the aquatic ecosystem. By limiting the growth of algae, snails help improve water quality. Snails are fed on by many organisms, including fish, turtles, ducks, and raccoons, so they are an important part of food webs.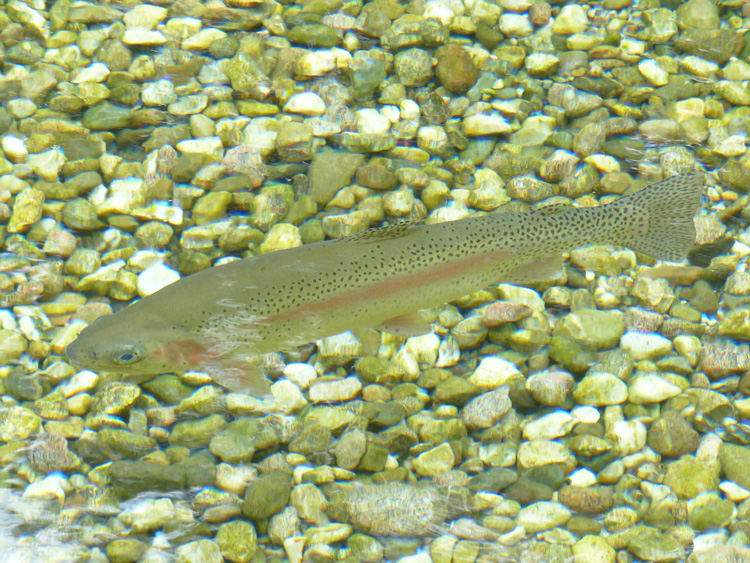 The Sacony Creek is classified as a cold water fishery because of its ability to sustain trout populations. The brook trout, Salvelinus fontinalis, is Pennsylvania's state fish and the only native trout species found in our streams and rivers. Brook trout have been known to breed at the headwaters of the Sacony Creek. However, rainbow trout, Oncorhynchus mykiss, and brown trout, Salmo trutta, are more commonly found throughout the Sacony Creek because they are regularly stocked by the Pennsylvania Fish and Boat Commission. Rainbow trout are more abundant than brown trout here because they are more regularly stocked. Trout require clean and cold water that holds high levels of oxygen to survive. Trout are typically found in small pools and in faster moving water in stream riffles. Here they feed on a variety of invertebrates and take their prey underwater and at the surface. The best fishing for trout in the Sacony Creek is in spring after fish have been stocked.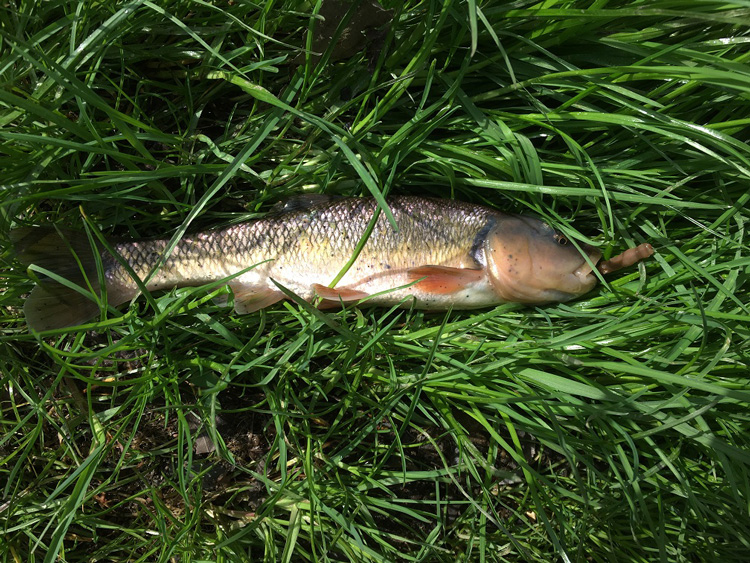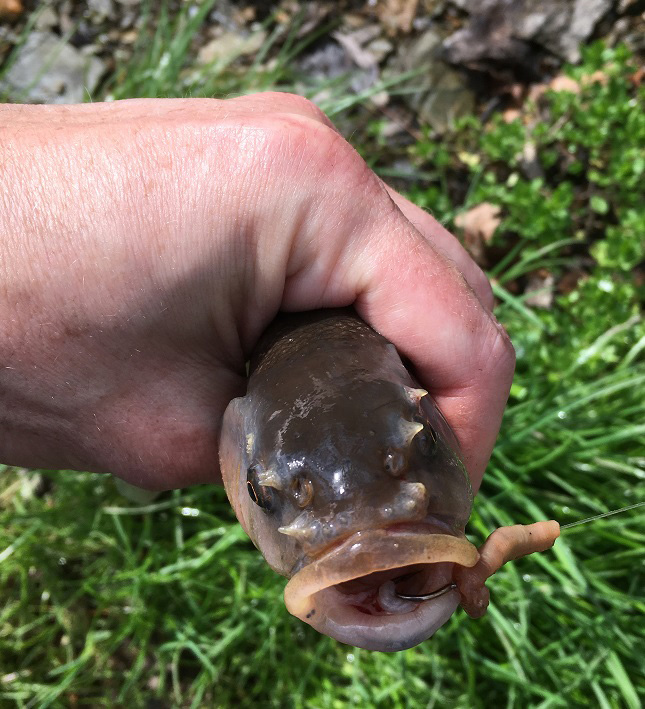 Creek chubs, Semotilus atromaculatus, are one of the most abundant native fish in the Sacony Creek. Most creek chubs are small, only a few inches long, but may grow to as large as 12 inches long. These fish have an olive-brown body for both sexes. Breeding males will have orange on the dorsal base and lower fins and develop bumps or tubercles on their head to use in competition with other males. Creek chubs prefer to live in rocky and sandy pools, creeks, and small rivers throughout the eastern United States. Here they feed on different types of invertebrates. Large creek chubs are sometimes caught while trout fishing, whereas smaller ones are often used as bait to catch larger fish.
Why is stream life important?
Overall, a diversity of stream organisms is essential for a healthy ecosystem. Aquatic invertebrates are at the bottom of the food chain and support fish populations and even those of terrestrial vertebrates. Aquatic organisms are good indicators of water quality as well. Many species are intolerant of pollution, such as toxic chemicals or untreated fecal waste, and will only thrive in clear, cold water. Currently, the Sacony Creek and its community of aquatic organisms is under stress from impacts on water quality due to adjacent land use activities, the reduction in the size of the riparian buffer in places, and invasive species, such as the New Zealand mud snail. To stop the spread of aquatic invasive species, remember to check fishing equipment, boots, and boats when entering different water systems. If you are interested in volunteering to help monitor and improve water quality in the Sacony Creek, please contact the Kutztown Borough's Environmental Advisory Commission (EAC) (eac@kutztownboro.org).
To learn more about aquatic organisms and stream ecology, please visit these links.
http://w3.marietta.edu/~biol/biomes/streamtour.htm
http://www.fishandboat.com/Resource/AquaticInvasiveSpecies/Pages/default.aspx
http://www.maidencreekwatershed.org/
Acknowledgments
Roberta Beard and Jenna Ruoss assisted in developing the content of this webpage and Christopher Guyn allowed us to use a photograph. The North Park webpage project and some of the restoration work was funded by an education grant from the Pennsylvania Department of Environmental Protection to Todd Underwood and Christopher Sacchi of Kutztown University.