White-tailed deer – Pennsylvania's Most Controversial Animal
White-tailed deer (Odocoileus virgniana), Pennsylvania's state mammal, is not often seen at North Park, but its presence can be detected by observing signs of deer activity, such as signs of their feeding on many plants here.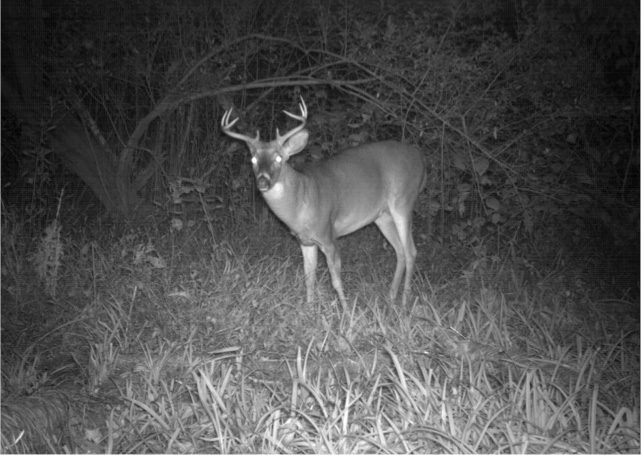 What's in a name?
The name for white-tailed deer comes from the habit of the deer to flash the underside of their tail to signal the presence of danger to other deer. Male deer, called bucks, grow antlers beginning in late spring or early summer and use the antlers during mating season in territorial displays and in creating scrapes and tree rubs to secure a mating with a female. Female deer, called does, mate with bucks in fall and produce spotted, camouflaged, fawns in May or June, with one to three fawns born per female, with twins born commonly in Pennsylvania. Offspring stay with their mother until the next spring when she gives birth to a new set of fawns. Yearling bucks and does disperse from the mother when she produces a new set of fawns; yearling does, but not bucks, typically re-join their mother and her new fawns in a family group later in the season.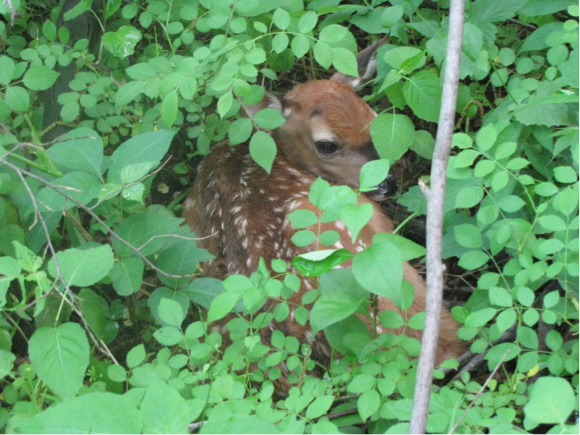 Few would argue that the white-tailed deer is among the most beautiful animals native to Pennsylvania. There is a fascinating history and controversy regarding white-tailed deer biology and its long association with people, from Native Americans who occupied this land prior to settlement by Europeans, to settlers and early farmers, to current residents of Pennsylvania.
Recent History of Deer Management in PA
At the turn of the 20th century, the traditional, but unmanaged use of white-tailed deer as a source of food led to the depletion of deer to the point where deer had become uncommon in Pennsylvania. Early in the 20th century the newly formed PA Game Commission applied principles of the newly evolving science of sustainable game management and sought to regulate the harvest of deer by hunters. Hunting was limited to specific seasons and to harvesting antlered bucks, while leaving antlerless animals, mostly females, which led to the successful regrowth of the deer population. The deer population grew to such large numbers over time, even with hunting, that further efforts to manage deer have been undertaken including the harvest of more antlerless animals, including does, in addition to bucks to more effectively control deer numbers. An indicator of the large size of the PA deer population is that in 2016 PA ranked third in the United Sates in the number of deer collisions with automobiles, with Pennsylvanians having one chance in 67 to strike a deer while driving. Deer hunting represents a long tradition in Pennsylvania that is important for families and friends who share the experience of learning about deer biology. Pennsylvania hunters will continue to play an important role in controlling the size of the deer population.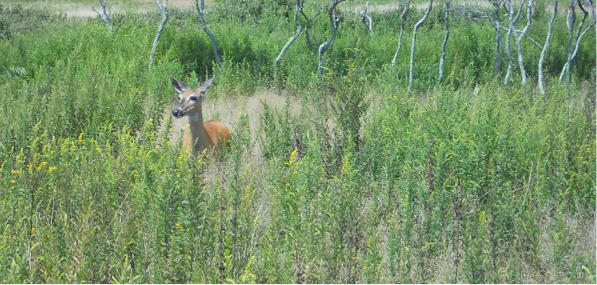 A Plant Diet and Damage to Forests
Deer in Pennsylvania have been documented to feed on more than 150 species of plants with their diet changing from diverse herbaceous plants and newly growing stems of vines, shrubs, and trees in spring and summer to fruits and "hard mast" or hard nuts produced by oaks and hickories in fall, to buds of trees and shrubs, conifer needles, and dry leaves in the winter. Deer prefer to feed on native plants, which in areas with high deer abundance can lead to reduction in the numbers of native plants and an increase in the abundance of non-preferred invasive alien plants species. Overpopulation of deer near populated suburban areas and towns also leads to the loss of plants in home landscapes and in parks due to deer feeding and in natural areas can lead to failure of the forest to regenerate.
At North Park, the most conspicuous signs of deer activity include the browsing of branches on woody plants, both trees and shrubs, and the removal of tips of tender green herbaceous plants. Deer browse can be confirmed if the browsed branch has an uneven cut or a torn edge; deer have only one set of incisors on the bottom jaw and when they grasp a branch to eat it, they often create a torn edge to the branch. Further, in forested areas of North Park, where deer are overpopulated, they browse on seedlings and saplings of woody plants affecting the future of the forest here and similar overpopulation leads to concern for forests throughout Pennsylvania.
Efforts to restore native plants at North Park requires strategies to reduce plant damage by deer. Near the walking trails you will notice that newly planted trees and shrubs are surrounded by cages to allow them to grow large enough to escape deer herbivory. Additionally, fences and tree tubes are needed to reduce the rubbing of the trunks of saplings or small trees by bucks. Additional efforts to reduce deer damage of planted natives includes use of non-toxic deer repellent sprays to inhibit deer feeding.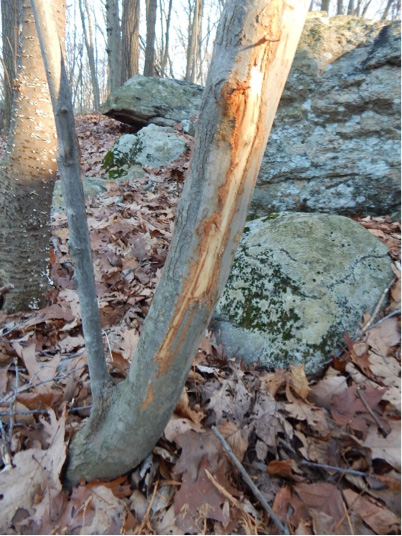 If you are interested in volunteering to help restore native habitat at North Park, please contact the Borough of Kutztown's Environmental Advisory Commission (eac@kutztownboro.org).
Visit North Park early in the morning or in the hours before sundown to increase your chances of seeing white-tailed deer.
For more information about White-tailed Deer in Pennsylvania visit:
http://www.dcnr.state.pa.us/forestry/deer/
http://www.pgc.pa.gov/Education/WildlifeNotesIndex/Pages/White-tailedDeer.aspx
http://www.pgc.pa.gov/WILDLIFE/WILDLIFESPECIES/WHITE-TAILEDDEER/Pages/default.aspx
Jacob Black, Leigha Hudgins, Amanda Infantino, and Laura Koze assisted in developing the content of this webpage. The North Park webpage project and some of the restoration work was funded by an education grant from the Pennsylvania Department of Environmental Protection to Todd Underwood and Christopher Sacchi of Kutztown University.