When comparing electric rates, use the "All In" method by dividing your total bill, in dollars and cents, by the total amount of kilowatt hours used, to give you your cost per kilowatt hour.
Keep in mind that on an investor-owned utility bill (such as Met-Ed or PPL), the generation, transmission and distribution charges are broken down; while they are all included in your Borough KWH usage rate.

Borough Electric Department funds help the Borough maintain one of the lowest municipal tax rates in Berks County. For example, a 3% decrease in the Borough's electric rates would equal $180,000.00 or one mill increase of General Fund taxes. The electric revenue generated helps to fund the General Fund, which includes but is not limited to Streets, Police, Parks and Pools. While you might pay slightly more to the Borough for electricity than a friend or neighbor might pay to Med-Ed or PPL, you also benefit from an extremely reliable system, with a dedicated five man crew, that is always available to address any system issues immediately. Our system is known to have very few outages, and when we do, we get service restored in very little time.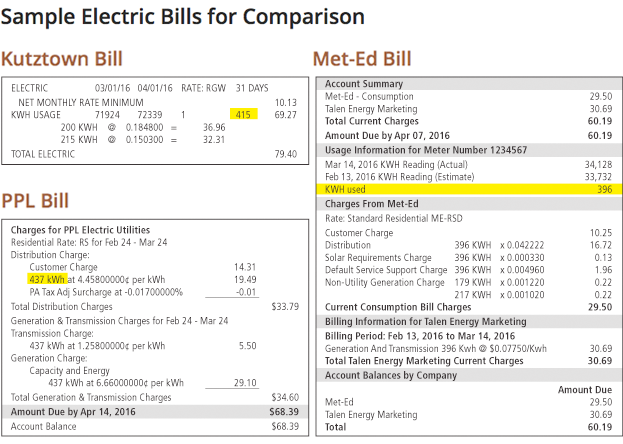 Customer Charge: Monthly charge to recover costs of billing, meters and equipment.
Distribution Charge: Monthly charge to recover costs of local equipment used to deliver electricity from high-voltage transmission lines (see Transmission Charge) and safely step down voltage for use in your home or business.
Generation Charge: Monthly charge to recover the cost of the production or purchase of electricity.
kWh (Kilowatt-hour): A measure of how much electricity your household uses. One kilowatt-hour equals the amount of electricity used by ten 100-watt lights left on for one hour.
Transmission Charge: Monthly charge to recover the cost of moving electricity over high-voltage transmission lines from generation facilities to your electric provider's distribution lines (see Distribution Charge).