Kutztown Park
Address: 440 E. Main Street, Kutztown, PA
Please note that Park facilities are closed from the end of October until the beginning of May. While the Park may be enjoyed year-round, facilities, restrooms, utilities, and kitchens are not available off-season.
NO ALCOHOL IS ALLOWED IN THE PARK.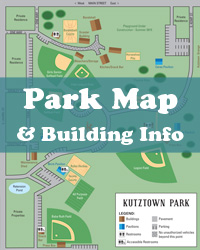 ---
North Park
Address: Krumsville Road, Kutztown, PA
Park closes at dusk. To get to North Park, travel north on Route 737 and turn left after Eagle Point Road (before Sweet Corn Drive). Follow the road past the office building parking lot and keep right at the fork (after the bridge).
A pavilion and gazebo are available for rental. See the links above for details.
The site of the old swimming pool, now known as North Park, is an expansive passive recreation area suited for hiking and walking the trails with beautiful creek side access. Funded in part by a $200,000 grant from the Pennsylvania Department of Conservation and Natural Resources, North Park also has a pavilion, gazebo and restrooms to accommodate small gatherings. North Park will remain largely undeveloped to keep the emphasis on preserving wildlife and the natural environment.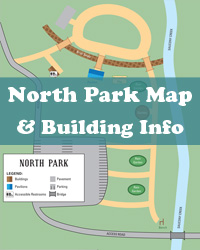 ---
Kutztown Pool
Address: 171 Industrial Avenue, Kutztown, PA
Phone: 610-683-9177
Website: Borough of Kutztown Swimming Pool
Facebook: Borough of Kutztown Swimming Pool
2017 Season: May 27 – September 4
2017 Hours: 12:00 – 8:00pm (May 27 – July); 12:00 – 7:00pm (August – September 4)