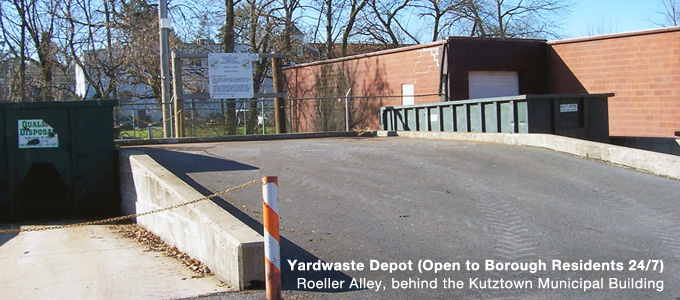 Hours of Operation: Monday thru Friday, 7:00am – 3:30pm
Phone: 610-683-6131
Fax: 610-683-9076
Email:
About the Department
The Refuse and Recycling Department is responsible for collection and disposal of all the Borough's curbside trash and recycling.
Interesting Facts:
We recycle around 1,000 tons of yard waste every year.
We landfill around 2,500 tons of trash every year.
We recycle around 760 tons of paper/cardboard/plastic/glass/aluminum a year.
In 2015, the Borough recycled almost 7 tons of electronic waste.
Schedules and Rates:
Final Leaf Collections for 2017:

Monday, December 4 – North Side Final Collection (All leaves must be out by 7 am this day)
Tuesday, December 5 – North Side, if needed
Thursday, December 7 – South Side Final Collection (All leaves must be out by 7 am this day)
Friday, December 8 – South Side, if needed