Amphibians and Reptiles of North Park
About 10 species of amphibians and reptiles have been found in the Sacony Creek Watershed in the Kutztown area (which includes the Sacony Trail in Kutztown and North Park). Several more species are likely to occur here but have yet to be documented due to the lack of any surveys.
Amphibian Biology
Amphibians are recognized by their thin, moist skin, which they use for gas exchange, and their interesting life cycle. The word amphibian means dual life and refers to the two stages of development, an aquatic larval stage and a terrestrial mature stage, in their life cycle. Amphibians are limited to aquatic or moist habitats because their eggs are susceptible to drying out and their skin must remain moist to allow gas exchange. Typically, eggs are laid in water and the juveniles that hatch out spend their time here as tadpoles with gills. Juveniles undergo metamorphosis into adults with lungs so they can now live in terrestrial habitats.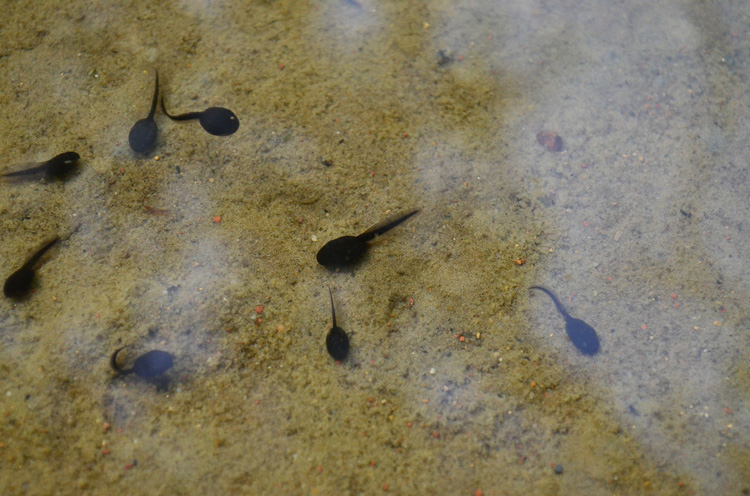 Examples of Amphibians at North Park
Amphibians found in the Sacony Creek Watershed area include the Northern Redback Salamander (Plethodon cinereus), Longtail Salamander (Eurycea longicauda), American Toad (Anaxyrus americanus), Gray Tree Frog (Hyla versicolor), Spring Peeper (Pseudacris crucifer), and Bronze Frog (Lithobates clamitans). A few more speices of salamanders and frogs will likely be found in here in the future.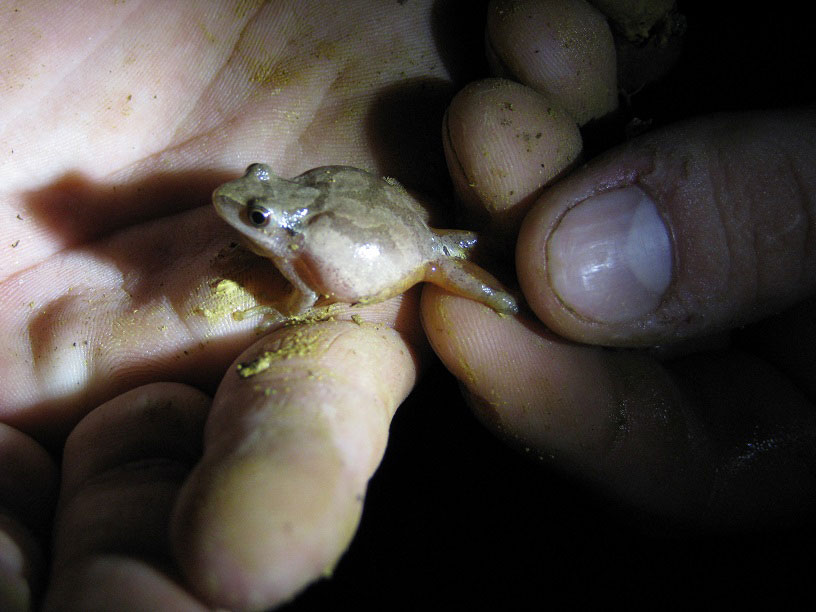 The Spring Peeper is one of the smallest frog in Pennsylvania measuring about 1 inch long. These tiny frogs are recognized by a black X mark on their backs. Spring Peepers are one of the first frogs to appear in spring and create a distinctive high pitched "peep" mating call. They breed in swamps and woodland ponds and move into woodlands after breeding is complete. Here they feed on a variety of small invertebrates. Spring Peepers can be heard calling from this sign post spot (at the North end of the loop trail) in March and April at dusk.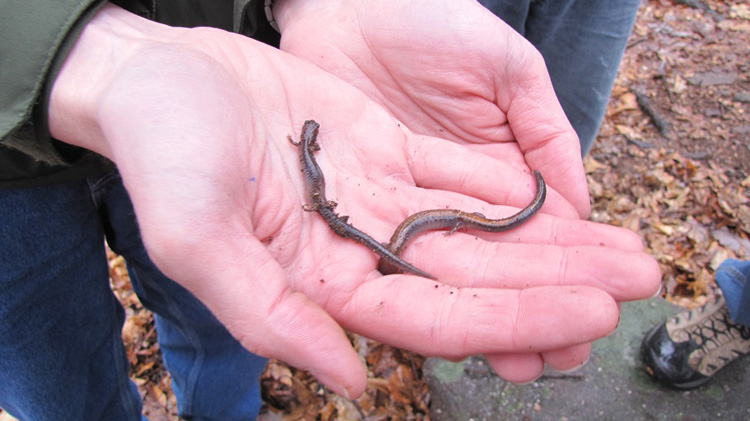 The Northern Redback Salamander is one of the most abundant vertebrates in Pennsylvania's forests. They are small, thin terrestrial salamanders that are easily found under rocks and logs along the Sacony Creek and in the woodland areas of North Park. Here they feed on small invertebrates in the soil and leaf litter. Most redbacks, as their name implies, are identified by a longitudinal rusty red stripe down the length of their body. There is another color form of the Northern Redback Salamander known as the Leadback Salamander, which lacks the rusty red stripe and has a uniform lead gray body color. Both color forms have a salt-and-pepper pattern on their belly. Northern Redback Salamanders are very territorial, so if you capture one to look at please return it to the same spot where found.
Reptile Biology
Reptiles are recognized by the scales covering their skin and the laying of soft-shelled eggs on land for reproduction. Unlike amphibians, reptiles undergo direct development and do not have a larval stage. This group includes snakes, lizards, crocodiles, alligators, turtles, and tortoises. Many reptiles, especially snakes, are persecuted out of ignorance and fear. Did you know – ophidiophobia or fear of snakes is the most common phobia in humans?! Most species of snakes and reptiles encountered in Pennsylvania are harmless to humans and are important parts of our natural ecosystems.
Examples of Reptiles at North Park
Reptiles found in the Sacony Creek Watershed area include the Common Snapping Turtle (Chelydra serpentine), Wood Turtle (Glyptemys insculpta), Eastern Box Turtles(Terrapene Carolina), Northern Water Snake (Nerodia sipedon), and Eastern Garter Snake (Thamnophis sirtalis). There are no species of venomous snakes found in North Park or along the Sacony Creek near Kutztown. Venomous snakes can be recognized by their very broad triangular heads and large body sizes. In Berks County, Timber Rattlesnakes and Copperheads are the only venomous snakes. These snakes are mostly found on rocky outcrops on ridge tops like at Hawk Mountain.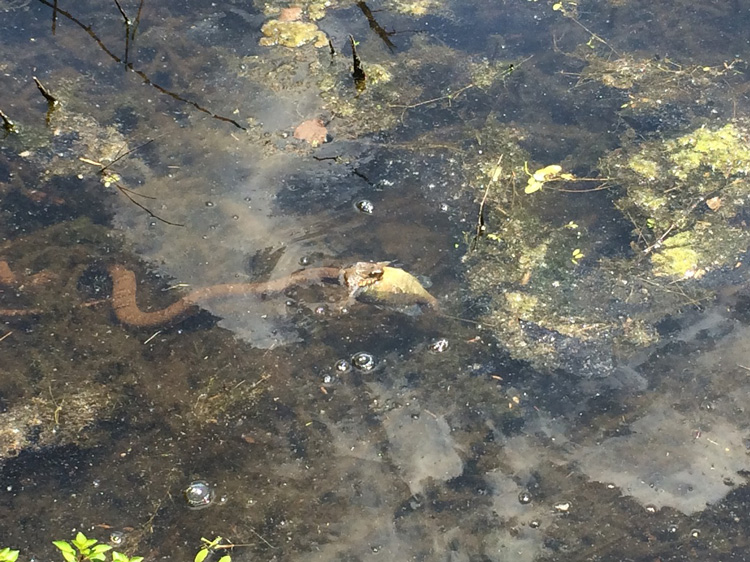 The Northern Water Snake is found in most aquatic habitats across the northern United States. They prefer slower moving creeks or streams where they feed on amphibians and fish. Because they do not produce their own body heat, they can be frequently seen basking on rocks near the Sacony Creek. Water snakes are often mistaken for venomous snakes like copperheads because of their similar color pattern. Although water snakes are not venomous, they are known to be aggressive when captured, so you should not try to pick them up.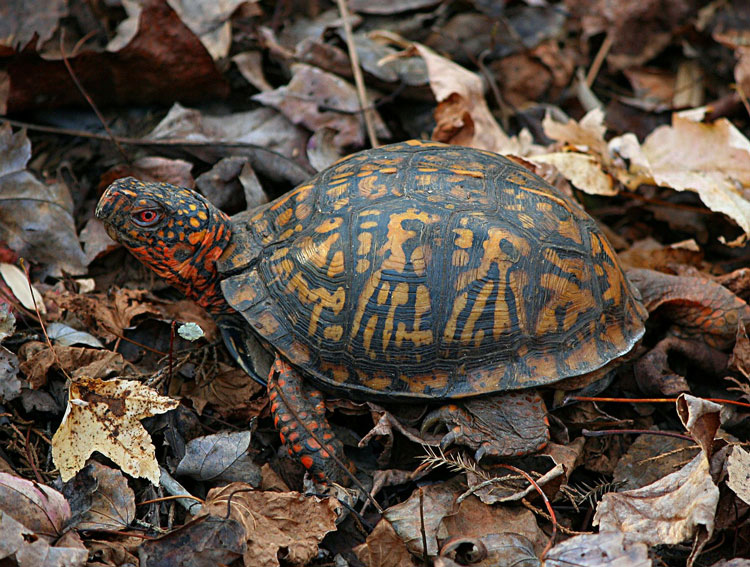 Eastern Box Turtles are recognized by their colorful domed shells. Their lower shell or plastron is hinged so when disturbed they can retract their head and limbs inside and close off their shell. This is an excellent defense against predators. Box turtles are found in deciduous woodlands and along the edges of woodlands. They are omnivores and will feed on fruits, invertebrates, and even feed on the flesh of dead animals. If you are lucky, you may observe a box turtle from any of the trails at North Park because most of the area provides good habitat for them.
Conservation of Amphibians and Reptiles
Habitat loss from development is one of the greatest factors negatively impacting reptiles and amphibians. Loss of wetland habitat in particular has led to population declines. Amphibians are further stressed by other factors. Due to their very permeable eggs and skin, amphibians are very susceptible to pollution, such as pesticides from agricultural runoff, and can be a great indicators of pollution present in an ecosystem. More alarming is a fungal infection from the chytrid fungus (Batrachochytrium dendrobatidis) that has caused one of the biggest losses of vertebrate biodiversity worldwide. This fungal disease causes a thickening of the skin, which will kill the infected individual, and has led to population declines, range reduction, and even extinctions of some amphibians. Here in Pennsylvania, we can help conserve amphibians and reptiles by preserving areas of quality habitat like North Park that have wetlands and riparian forests and by limiting our use of pesticides and herbicides.
Learning More about Animals at North Park
Kutztown Borough's Environmental Advisory Commission (EAC) has been working to develop species inventories of animals and plants found at North Park. Our animal species efforts have focused on birds and mammals so far. However, amphibians and reptiles are the next vertebrates we want to learn more about at North Park. If you observe amphibian or reptile species at North Park that are not listed on this page, please email your observations and/or photographs to Kutztown Borough's EAC at eac@kutztownboro.org.
For more information on amphibians and reptiles in Pennsylvania, please visit these links.
http://www.fishandboat.com/Resource/AmphibiansandReptiles/Pages/default.aspx
Acknowledgments
Garrett Herigan and Kelly Tessier assisted in developing the content of this webpage. The North Park webpage project and some of the restoration work was funded by an education grant from the Pennsylvania Department of Environmental Protection to Todd Underwood and Christopher Sacchi of Kutztown University.