At North Park, native plants are those plants indigenous to Pennsylvania that are naturally found growing in the environments that exist in the park, from the edges of the Sacony Creek to the riparian forest edges, to the hilly slopes surrounding the human-created meadows in the original swimming pool site.
Native plants are of particular interest and value since they are adapted to local environmental conditions and have a history of co-occurrence with native animals that rely on these plants for food and shelter. In recent years, concerns related to the decline in abundance of native plants have been expressed with regard to the loss of ecological services that native plants provide such as: providing food for insects that support birds that control diverse other pest species, protecting against soil erosion, and reducing the loss of native pollinating insects including bees that depend on the flowers of these native plants for food.
In recent years, there have been several groups that have begun the process of restoring ecological communities of plants along the Sacony Trail and at North Park because there are a number of invasive plants that have become established. Here at North Park, you can observe native plants that occur here naturally or have been planted with assistance of people from community groups. For example, in 2017, a Girl Scout from Fleetwood Troop 11096, Ripley Price, designed, organized volunteers, and planted a large native plant garden for her Gold Award Project.
During your visit to North Park, look for a few of the several native plants species that are common close to the Sacony Creek, in the woodland areas, or in the native plant garden. The native plant garden is located off of the loop trail near the remnants of the cement foundation of the bath house for the old swimming pool.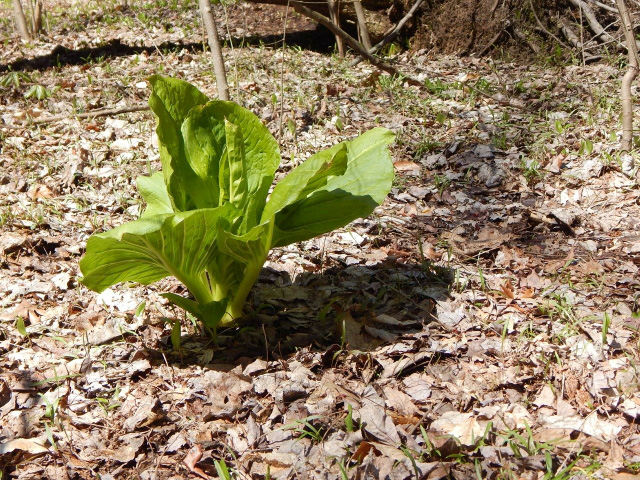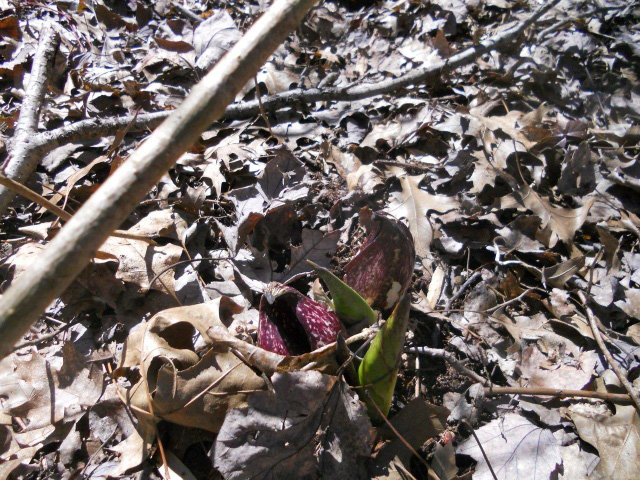 Skunk Cabbage (Symplocarpus foetidus)
This large-leaved plant of wetlands produces leaves that are foul-smelling when torn. The lush looking green leaves are a rich source of food for insects, but tend to be avoided by most mammals since the leaves form calcium oxalate crystals that can cause swelling and burning of the throat in people who sample the leaves. At North Park, skunk cabbage is readily seen along the stream banks and the floodplain along the Sacony Creek. This plant flowers during winter, with the maroon or purplish flower spathe emerging through the snow even before the leaves have emerged. The flowers produce enough heat to melt their way through the snow. In late spring into summer, you may find evidence of the remains of the flower or an entire fruit of the skunk cabbage among the large green leaves.
Fun fact: The flowers of skunk cabbage produce no food reward, but they are reported to be several degrees warmer than the air around them, even in winter, providing a safe, warm haven for insects that are just beginning to fly or crawl on days that are just warm enough for insects to be active.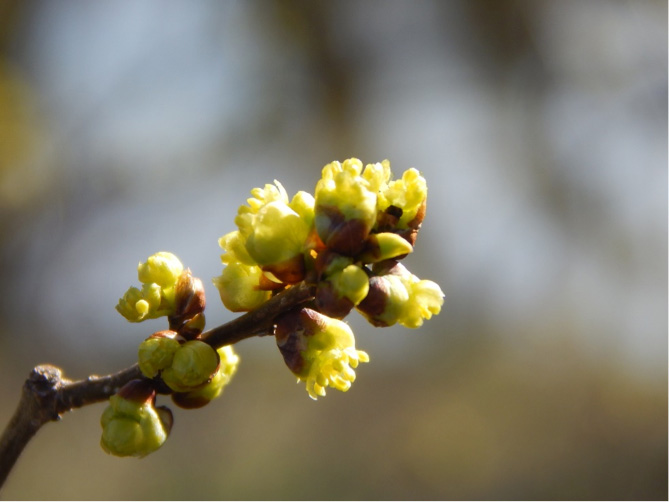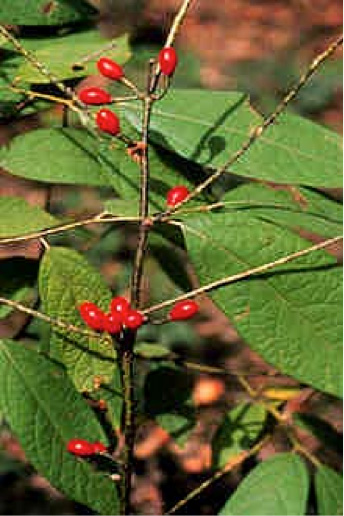 Spicebush (Lindera benzoin)
Spicebush is a shrub that flowers early in the growing season. The dark green leaves follow the flowers and then turn a beautiful yellow in the fall. This shrub grows to be about 6 to 12 feet tall and has separate male and female plants. Spicebush leaves have a sweet, spicy scent. Spicebush leaves are not attractive to deer so these shrubs thrive compared to other native shrubs at North Park. The shiny red berries are high in oils and are important to migratory birds in fall who are looking to fatten up as they prepare for their migratory flight (these berries are NOT edible for people!!). Spicebush swallowtail butterflies lay eggs on spicebush and the caterpillars feed on the leaves. Spicebush shrubs are abundant and are found throughout North Park.
Fun fact: Spicebush stems were used by Native Americans to make tea and other parts of the plant were used to make medicine for a variety of illnesses.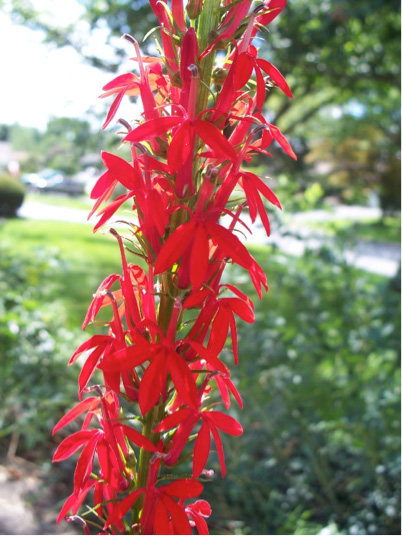 Cardinal flower (Lobelia cardinalis)
Among Pennsylvania's most striking plants is the cardinal flower, a short-lived perennial that produces a spike of richly colored red flowers beginning in early to mid-summer and which lasts for several weeks. These striking red blooms are known to be attractive to the native Ruby-throated Hummingbird which come to the flower for its sugar-rich nectar. While each flower produces both male and female parts, the flower undergoes a sequential development where its male structures mature first followed by the maturation of the female structures so each flower tends to be male first and female second.
Cardinal flower plants are associated with wet soils and may be found near the Sacony Creek and in the native plant garden at North Park.
Fun-fact: Even though cardinal flower is considered to be a "hummingbird" flower, bees commonly visit the flowers and crawl around the mouth of the flower where they can drink the nectar. When bees drink the nectar in this way, they act as nectar thieves because they do not come into contact with the plants reproductive parts and they do not carry cardinal flower pollen from one plant to the next.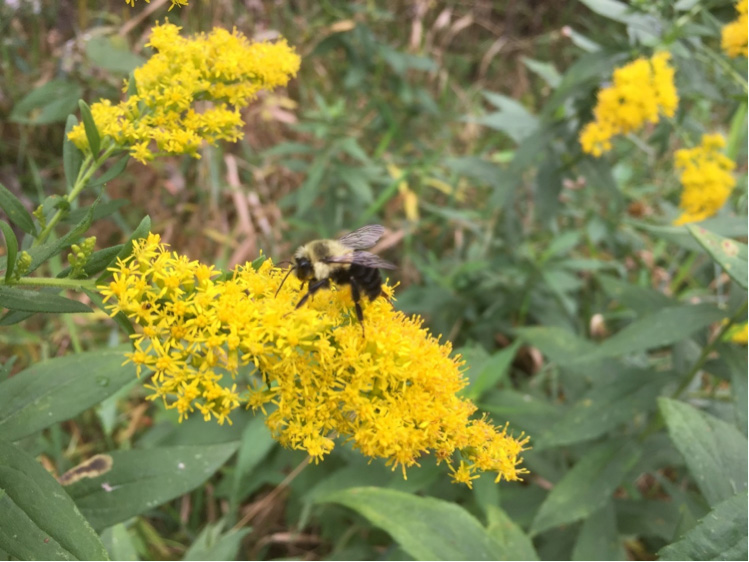 Tall Goldenrod (Solidago altissima)
Tall goldenrod is a perennial plant species meaning that once established from seeds, the plants can re-grow each year from below-ground stems. Individuals grow in clumps and one individual can occupy a large area as it expands over time. In late summer to fall, this goldenrod produces a sunny splash of golden flowers that are attractive to a large variety of pollinating insects including bees, butterflies, flies, and beetles among other flower visitors. The tall goldenrod is host to a variety of insects including several species of gall-forming insects that can induce the plant to produce an enlarged structure that houses and nourishes the offspring of the female insect – look for the ball or spindle shaped growths in the middle of goldenrod stems to see one of these galls. At North Park, look for goldenrod growing along the edges of the trails near the creek and the loop trail.
Fun Fact: Goldenrod is not the cause of hay fever allergies in the fall. As an insect pollinated plant, goldenrod produces relatively little pollen that gets into the air. The pollen allergies in fall are associated with the abundant wind-dispersed pollen of the drab flowers of ragweed which flowers at the same time as the goldenrod.
If you are interested in helping to maintain the native plant garden or in planting native trees and shrubs in North Park, please e-mail Kutztown Borough's Environmental Advisory Commission at eac@kutztownboro.org.
For more information on native plants and how to use them in your home landscapes, please visit these links.
http://www.dcnr.state.pa.us/forestry/plants/nativeplants/
http://www.iconservepa.org/plantsmart/nativeplants/
http://www.nwf.org/Garden-For-Wildlife/About/Native-Plants.aspx
Emily Coghlan and Michael Toolan assisted in developing the content of this webpage. The North Park webpage project and some of the restoration work was funded by an education grant from the Pennsylvania Department of Environmental Protection to Todd Underwood and Christopher Sacchi of Kutztown University.