What is an invasive plant?
Unlike native plants, invasive plants are alien plants that did not originate or evolve in the area in which they reside and cause harm to ecosystems. Alien plants, typically from Europe or Asia, were introduced to Pennsylvania accidentally or on purpose for ornamental or other practical purposes. An invasive plant is a type of alien plant that reproduces and spreads quickly and causes harm to natural ecosystems by displacing native plants (link here to native plant webpage) that are better at providing food and shelter for wildlife.
How do invasive plants colonize an area?
Natural areas are often colonized by invasive plants after land disturbances. The spread of invasive plants in North Park was likely enhanced by the changing of land use patterns in the area as some farmland was deserted and the historic pool site was filled in with waste soil. The seeds of invasive plants are effectively spread when birds eat the numerous berries they produce, wind and water carry them to newly disturbed sites, or when seeds are brought in with waste soil used as fill.
Examples of invasive plants at North Park
More than 25 different species of invasive plants are found in North Park. These include different species of grasses, herbaceous plants, shrubs and trees that are common to many areas in Pennsylvania. Here are a few examples.
Japanese stilt grass (Microstegium vimeum), native to southeast Asia, was introduced into North America from its use as packing materials for shipped goods. This grass which grows to over 3 feet tall can produce up to 1,000 seeds per plant and can quickly cover forest floors. The seeds are easily transported by animals, wind and water making it an effective invasive species. Extensive mats of stilt grass cover many areas of North Park preventing native plants from growing. Stilt grass is found along the edges of walking trails, in woodlands, and in open areas at North Park.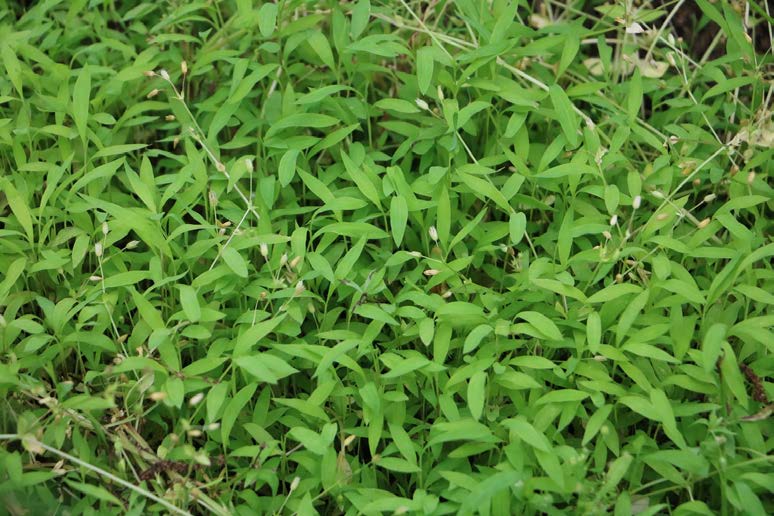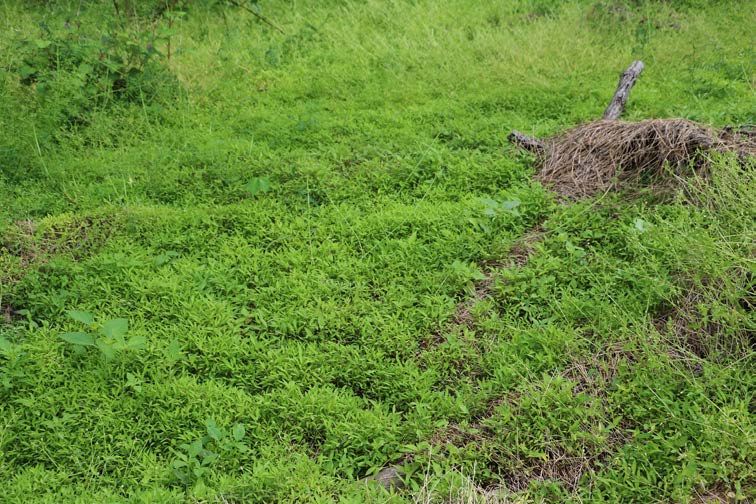 Garlic mustard (Allaria petiolata), named for the strong garlic-like odor of its crushed leaves, is native to Europe. This herbaceous plant was likely introduced into North America as a food source by European settlers. Similar to spinach, the leaves can be eaten raw or cooked. Garlic mustard produces a rosette of toothed leaves in its first year and sends up a stalk of small white flowers in its second year. Each plant may produce a few thousand seeds which rapidly spread. Garlic mustard plants also release chemicals into the soil that inhibit the growth of other plants. These traits tend to produce large stands of garlic mustard that displace native plants in many areas. At North Park, garlic mustard is found along the edges of woodlands and along the Sacony Creek.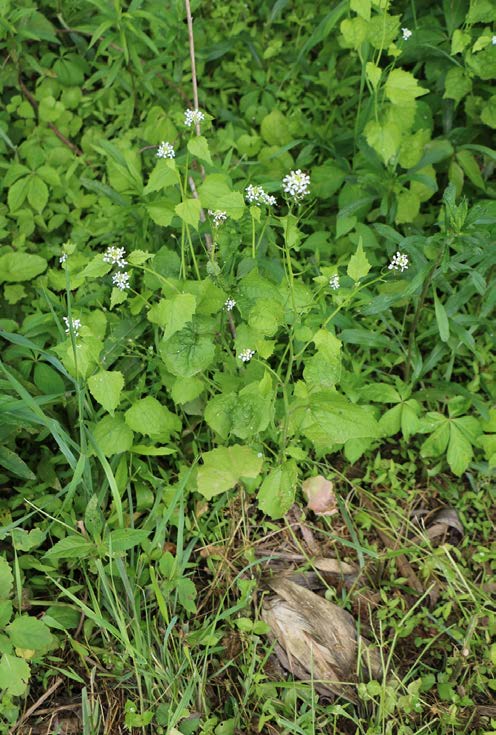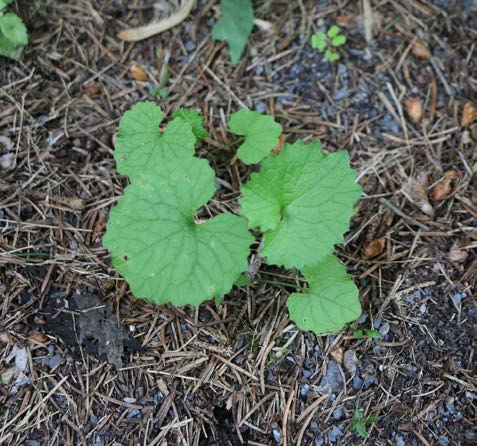 Japanese Barberry (Berberis thunbergii), native to Asia, is a small shrub that was introduced into North America for use as an ornamental plant in the late 1800's. This shrub is still commonly sold and planted as an ornamental today despite its invasive nature. Japanese barberry is identified by its spines and leaves that emerge from the stems in whorls. Numerous bright red berries are produced on barberry in the fall, which allows this shrub to invade forests because birds spread the seeds widely after eating the berries. Japanese barberry is found along the edges of the walking trails and further into woodland areas at North Park.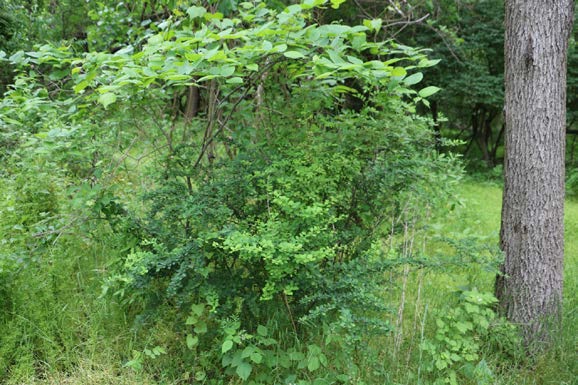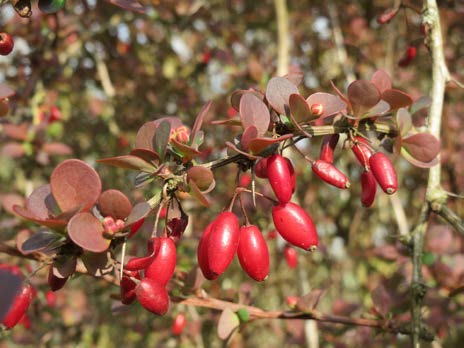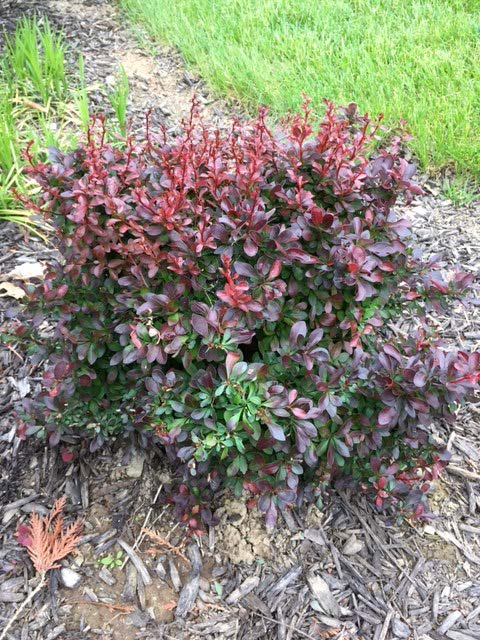 Tree of heaven (Ailanthus altissima), native to China and Taiwan, was introduced to Philadelphia in the 1700's and promoted as a landscape tree because it was fast growing and easy to care for. This large tree has long compound leaves that when crushed emit a foul odor similar to burnt peanut butter. Tree of heaven spreads rapidly by its roots and ability to resprout after it is cut. Because the root suckers will spread further to colonize more area with trees, effective control requires the use of herbicides on the cut trunks. Tree of heaven also releases chemicals into the soil that inhibit the growth of other plants. In North Park, tree of heaven is found throughout most of the park, but is especially abundant in areas of new forest growth and along the Sacony Creek.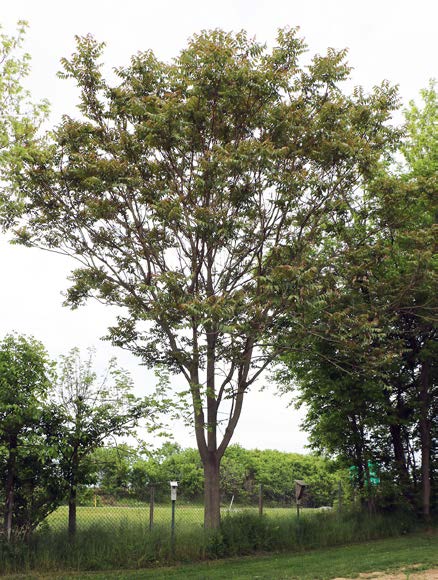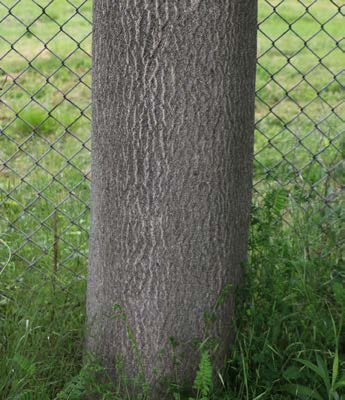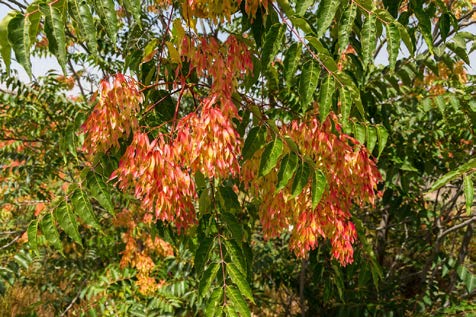 Invasive plant control at North Park
Kutztown Borough's Environmental Advisory Commission (EAC) is working to remove invasive plants (especially Tree of Heaven, multiflora rose, autumn olive, Japanese barberry, and shrub honeysuckle) from North Park. Since 2015, the EAC has partnered with volunteers from Berks Nature, local Boy Scouts of America troops, Kutztown area community members, and Kutztown University faculty and students in this work. Efforts to restore the native plant community have focused on areas along the Sacony Creek and trails at North Park. To date, over 250 native trees and shrubs have been planted in areas of the park where invasive plants were removed. If you are interested in volunteering to help with this restoration work at North Park, please contact the EAC (eac@kutztownboro.org).
For more information on invasive plants and how to control them on your own property, please visit these links.
http://www.dcnr.state.pa.us/forestry/plants/invasiveplants/
https://www.fs.fed.us/wildflowers/invasives/
https://www.doi.gov/invasivespecies/
Acknowledgments
Michayla Kelsch and Alec Leidy assisted in developing the content of this webpage. The North Park webpage project and some of the restoration work was funded by an education grant from the Pennsylvania Department of Environmental Protection to Todd Underwood and Christopher Sacchi of Kutztown University.